Whistle Stop Clay Works
119 Harrison Street
Loveland, Ohio 45140
513.683.CLAY (2529)

About US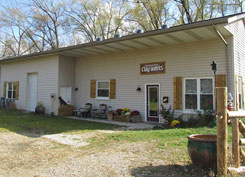 Whistle Stop Clay Works is a fully equipped ceramics teaching studio and gallery located in historic downtown Loveland, Ohio, where the corners of Hamilton, Warren and Clermont counties meet. It's close to excellent restaurants and shops and just two blocks from the renowned Little Miami River Bike Trail.
Opened in June 2010, the Clay Works is the dream of Tim and Kay Bolin O'Grady, longtime Loveland residents who firmly believe that art has a serious impact on one's life and the community in which they live.
After Tim retired in 2006, he resumed his passion with clay at his home studio.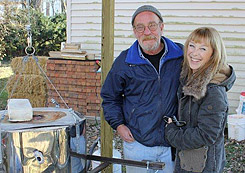 One thing led to another. Tim and Kay purchased a 1,300-square-foot abandoned distribution business building in Historic Loveland in the winter of 2009/2010 and within six years have turned it into a viable instructional and recreational resource for the community.
While our focus is on instruction to help our students achieve the knowledge and skill to develop their own sense of ceramics art or craft, many agree that Whistle Stop Clay Works is just plain fun!
We sincerely thank those who have visited and enjoyed our efforts. And we invite you to come learn, relax and explore your creativity.
Who We Are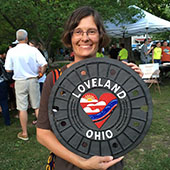 BONNIE McNETT — Director of Operations and Instructor
Bonnie McNett is an award winning potter living in Loveland, Ohio. She is primarily self taught and has been working with clay since 1990. She began her interest in pottery in college - when presented with a choice between Organic Chemistry II or Ceramics, the choice was clear. She has a degree in biology from Earlham College and two masters from Miami University, one focusing on spider ecology and the second on secondary science education. Bonnie's work is primarily wheel-thrown, functional pottery glazed in rich earth tones and decorated with nature inspired themes. Her love of animals and nature, especially
birds, shows in much of her work. Bonnie also serves as an Artist in Residence at
Children's Meeting House Montessori School, where she teaches pottery classes
for students from kindergarten through sixth grade.
HELOISE BESSE — Instructor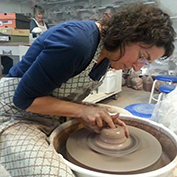 Originally from Louisiana this Cajun has moved around a lot. In her travels Heloise always found time to take an art class. Over the past she has learned from various artists across the nation and overseas. She loves learning about clay and then sharing that knowledge. She has been at WSCW for five years instructing students of all ages and abilities and teaches hand building and wheel. She's been a member of Clay Alliance for over 13 years. Her passion is creating functional forms on the wheel. When she isn't teaching or working in her home studio on a commission or Empty Bowls Project, you can find her
enjoying time with family, friends and her pets.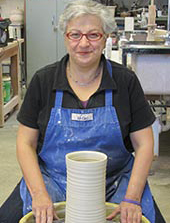 ADRIANA De PALMA — Instructor
Originally from Argentina, Adriana has been living in the United States for 27 years. She started working with clay 25 years ago at The North Carolina State University Craft Center in Raleigh, NC, and continued her formal education in Fine Arts at Miami University, Oxford, OH. Through the years, she has benefited from the generosity of many talented artists who shared with her their knowledge and experience. When she is not teaching, she is working on her personal projects and mainly in porcelain.
JOY FRANCE — Instructor
Joy is a Loveland native. She grew up playing on the clay banks of the O'Bannon Creek and Little Miami River. Joy strives to see and create work that reflects the beauty of the ordinary. She first started studying ceramics as a teenager then returned to it as an adult in 2009. She holds degrees in Biology and Theatre and is currently studying Occupational Therapy. She enjoys teaching adults and children and is continually inspired by the new creative insight of each individual.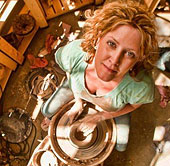 CHRISTINE KIDWELL — Instructor
For Christine (kidwellceramics.com), there is no limit to the number of ways clay can be used to create unique, one-of-a-kind pieces. Christine's work reflects her appreciation of the imperfect way nature reveals itself in form, color, and movement. She can be found using many different clay and glaze combinations in order to create organically-inspired decorative art. She participates in many juried art fairs, including the Wyoming Art Show and the Milford Art Affaire. Christine enjoys working with new and established students at WSCW to help them develop the set of skills and techniques that serve as a
foundation for creative expression.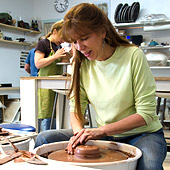 GRACE MARKLEY — Instructor
Grace Markley has worked in clay since 1990 and taught and studied both wheel and handbuilt ceramics in Atlanta and Cincinnati. She has conducted workshops, offered talks about the clay journey and participates in craft events and fairs. She focuses her passion for clay on unique, one of a kind, functional ware, with the hope that her pieces will become a part of personal memories, to be given as gifts, treasured and shared. The joy and fluidity of creating in clay is a constant source of inspiration to her and a reminder of the value of craft in contemporary culture. She looks forward to meeting new students and facilitating
their artistic journey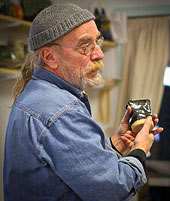 TIM O'GRADY — Director of Finance
Tim O'Grady was born in Brooklyn, NY, in 1944. From a young age, at a remote family summer home (no plumbing or electricity) in Spencertown, NY, Tim became adept with making 'mud pies'. In 1970 he started throwing 'ceramics' on a wheel converted from a treadle Singer sewing machine. Tim considers himself self-taught and devotes his time to hand carving clay reproductions of the 19th and early 20th Century Manhole Covers and throwing pots to explore glaze techniques in his personal studio in Historic Loveland. Several of Tim's Manhole Covers are displayed at Loveland City Hall. His work can also be seen at Kings Honda, where only three artists were chosen from the Cincinnati area to be part of the grand opening and state-of-the-art automobile showroom.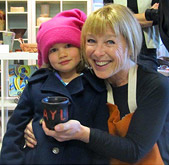 KAY BOLIN O'GRADY — Director of Marketing & Sales
Kay Bolin O'Grady retired as Vice President of Sales and Marketing for a French-owned textile company in 2004 and, for the first time in her life, was able to focus her energies on the Loveland community. She quickly became involved with the Loveland Stage Company, Loveland Beautification Committee, Greater Loveland Historical Society Museum and the Loveland Arts Council. She served two terms as president of the Loveland Arts Council. Kay regrets she does not have a ceramics background but admits she is in the right place to learn. "You are never too old to learn and I am loving it!"