Classes, Lessons & Workshops
The Whistle Stop Clay Works education program offers a variety of ceramics classes, private lessons and pottery workshops for children, teens, adults and clay art enthusiasts of every skill level.
Never touched wet clay in your life? That's OK, we love introducing people to the pottery wheel and the broad range of forms you can build and sculpt by hand. Our class sizes are small, which allows beginning students to receive one-on-one attention, while intermediate students develop their ideas and skills under the supervision of an instructor. More advanced potters can get technical advice on new surface techniques and more complex forms or just a friendly discussion on approaches and aesthetics.
Open studio time is included with every class registration to give you a chance to practice and explore on your own.
Six-Week Clay Classes
We offer six-week sessions in hand building, wheel throwing, tile making and sculpture at the beginning, intermediate and advanced levels for adults and children. We try to match classes with the interests and schedules of the participants, so class times and topics vary with each six-week course. See Adult Classes and Youth Classes for course descriptions. Check our Calendar for upcoming class offerings and times.
Worried About Committing That Much Time?
Don't worry. We also offer a variety of one-time classes and events that give you a chance to get your hands dirty without having to make a six-week commitment.
Try one of our:
Check our Calendar for upcoming class offerings and times.
Private Lessons
We offer private lessons in hand building, sculpting, throwing on a pottery wheel, and tile making.
A minimum two-hour lesson is required for anyone who has no experience working with clay. Class size is limited to one to three students. Spectators are welcome.
Tuition for two hours is $125 for the first person, plus $75 for each additional person. Each additional consecutive hour costs $50 for the first person, plus $25 for each additional person. Tuition includes clay, glazes and firing. Additional studio time may be purchased separately. (See Studio Rental.)
Please bring an apron or old towel and wear comfortable clothes that you don't mind getting dirty. Working with clay can get messy. The clay comes out of a fabric without much effort, but some glazes and other materials aren't so forgiving.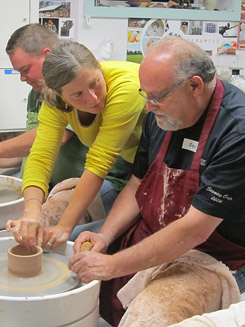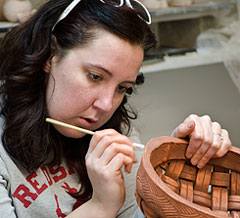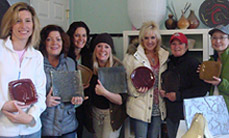 Looking for a unique group activity?
We excel at creating clay classes and events that deliver just what you need and enjoy. Contact us to learn more.