Special Events at Whistle Stop
Whistle Stop Clay Works is a great place to gather for a fun, inspiring afternoon or evening with friends, family, co-workers, club members or even total strangers! There's something about sitting around a table working with clay that makes it easier to meet and get to know people. Participate in one of our scheduled events or create your own.
Cocktails & Clay (ages 21 & up)
Pull up a stool, grab a glass of wine and some clay, and join us for a unique evening of ceramics and socializing. The last Friday and Saurday of every month (unless otherwise noted), we host Cocktails & Clay, a two-hour TGIF class for adults of all skill levels.
Cocktails & Clay is a wonderful way to decompress at the end of a long week. If you've never experienced clay before, this is a fun and easy way to get acquainted with the ceramic arts. We supply the instruction, the pottery materials, and the wine, beer, non-alcoholic beverages and light snacks. You just relax and play.
Each month we work on a different project, beginning with examples and a brief introduction to the techniques. Then it's all up to you. Past projects have included everything from shot glasses and mugs to tiles, dessert plates, planters and garden markers. Finished pieces are ready for pickup two weeks after the event.
The fee is $35-40 per person. Check our Calendar page or subscribe to our mailing list to learn about upcoming events and projects.
To register, just stop by the studio, call us, send an email or pay online. Please call 683-2529 to make sure a spot is available before registering and paying online. Many of our Cocktails & Clay events fill up quickly. Reservations are recommended at least one week before each scheduled event, but feel free to contact us up to 24 hours before the event to see if we have spots available.
It's a good idea to wear comfortable clothes that you don't mind getting a little dirty. Working with clay can get messy. Clay comes out of fabric without much effort, but some glazes and other materials aren't so forgiving.
Special Workshops
A few times each year, we offer special classes or workshops to introduce students to new techniques and materials. For example, a manufacturer of ceramic glazes conducted a one-day session on special finishing techniques. One of our instructors taught a special two-part workshop on how to create woven clay baskets.
Watch our Calendar for announcements of these upcoming special events, or we send announcements directly to your email box. Just sign up for our mailing list.
Team Building Workshops
Offer your business, corporation or organization a valuable and unique experience. Clay is a perfect medium for building better working relationships and learning how to work as a team.
Team Building Workshops are designed to enhance group communication and help develop problem-solving skills. Having fun and being creative together also helps strengthen relationships by allowing people get to know each other better in a new and relaxed environment.
Groups must be no more than 12 people. Cost of the workshop includes:
An initial meeting (via phone or in person) to discuss particular goals and interests of your group.
All materials, a facilitator and the studio rental.
Any finished pieces will be ready for pick up approximately 2 weeks after the scheduled workshop.
Contact us to learn more about how we can customize a team-building workshop specifically for your group.
Create Your Own Special Clay Event!
Create your own Cocktails & Clay, Wine and Design or special pottery event at Whistle Stop Clay Works. Some ideas:
Birthday parties
Girls' Night Out
Couples' Night Out
Charity fundraisers
Neighborhood get-togethers
Club meetings
We can help organize whatever custom event you can imagine. You supply the food, drinks, plates, cups, etc. We'll take care of everything else.
One of our instructors will help you choose a unique project ahead of time. When guests arrive, we will introduce them to the studio and then dive right into discussing and demonstrating the selected pottery project. We'll consult, answer questions and guide the guests as they create their own unique ceramic pieces. Finished pieces will be ready for pickup two weeks after the event.
The fee is $40 per person, which includes:
A 2 hour event.
All clay, use of tools, glazes and firings.
You must have a minimum of 6 people and no more than 12 people, depending on the age of the group participants and the chosen clay activity. A $100 deposit is required at the time of the reservation. If food is involved, an adult must be present to supervise the children while they are eating.
Call us at 513-683-CLAY (2529) to discuss your needs and ideas and reserve a time.
For more opportunities to play with clay, visit our Classes page!
Visit our Calendar page for the latest upcoming events schedule and information!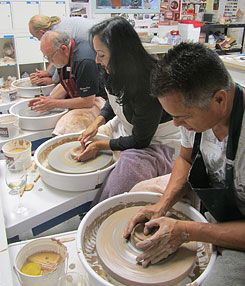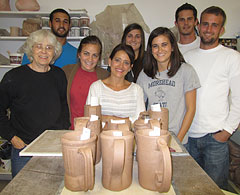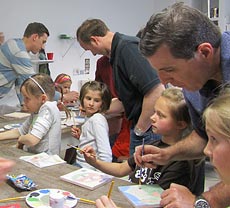 Make a Day or Night of It!
Before your evening clay event, experience Loveland by exploring the Little Miami Bike Trail and local shops or visiting one of the excellent restaurants in Historic Loveland. Visit the Our Community and Calendar pages for some of our favorite links.