Youth Clay Classes
We love working with kids and clay. Our after-school sessions during the academic year and Summer Clay Camp during school vacation are full of innovative pottery projects designed to interest children and youth ages 8 to 16.
Read the class descriptions below, and then see our Calendar for upcoming class offerings. You can register for class online, in person or by mail. Please call 683-2529 to make sure a spot is available before registering and paying online.
After School Enrichment Program — Open to ages 9-13
Perfect for children, tweens and young teens, whether they are new to pottery or are more experienced young clay artists. Projects are tailored to the attending group and involve unique functional and sculptural works designed to exercise a child's imagination. Independent thinking and problem solving is encouraged every step of the way!
The six-week session price of $150 includes:
Six weeks of instructor-led classes, one 1 1/2-hour class per week.
Clay, tools, glazes and firings.
Class size is limited to 12 children. Students should wear play or work clothes that can handle getting dirty. Working with clay can get messy.
The session fee is due in full before the program starts. We reserve the right to cancel an upcoming after-school session if fewer than six students register for the course. If we do have to cancel an offered session, we will fully refund your session fee, or you can transfer your enrollment into another available class.
After classes start, the session fee is not refundable for any reason except documented medical emergencies. Please understand that we reserve a wheel or table space for your child during the course's particular time slot and that spot will remain unfilled even if your child can't make that class.
Summer Clay Camp — Open to ages 7 & up
Give your kids a summer camp experience they won't forget. Each of our one-week Clay Camps runs from 9 a.m. to noon, Monday through Friday, and is built around a creative theme:
Week 1, June 12 - 16—Animals, Animals, Animals (ages 7+)
9 a.m. to noon, Monday through Friday. Instructor: Bonnie McNett.
If your child loves to explore nature and loves animals, this is the camp for them. Campers will learn how to express themselves in clay by exploring various hand building and texturing techniques while creating animal-related projects. The children will have the opportunity to paint and glaze each project. Campers can pick up their projects in about two weeks, after they have been high-fired in the kiln.

Week 2, July 10 - 14—Wheel Throwing (ages 10 - 15)
9 a.m. to noon, Monday through Friday. Instructor: Joy France.
During this focused camp on wheel throwing, campers will learn about form and function. They will learn how to create bowls, cylinders and plates on the pottery wheel. We will alter pieces, attach handles and trim them. Foot rings will be discussed and investigated. Campers will have the opportunity to glaze select projects. The items will be fired and available for pickup about two weeks after the conclusion of camp.
Week 3, August 7 - 11—Wheel Throwing (ages 10 - 15)
9 a.m. to noon, Monday through Friday. Instructor: Joy France.
Same description as our Week 2 camp.

Each one-week Clay Camp tuition of $165 includes:

Five days of instructor-led classes, one 3-hour class per day.
Clay, tools, glazes and firings.
Check our Calendar for specific class dates and times. Class size for each camp is a minimum of six and a maximum of eight students. Please give us your first and alternate choices for camps of interest in case your first choice fills up or is canceled because of insufficient enrollment.
We allow 15 minutes each day for students to have a snack during camp. Please provide a snack for your child. We will have juice boxes, water and fruit available.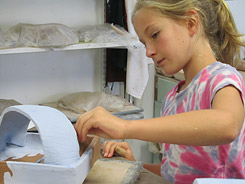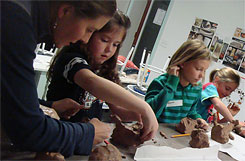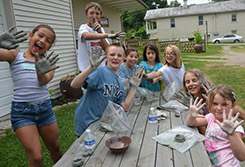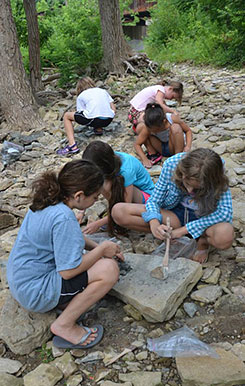 Create a Kids Clay Event
Want to hold a birthday party, a "Kids Night Out" or other special program or event? Please contact us. We can help you arrange it. We enjoy meeting the needs of families and young artists in our area!